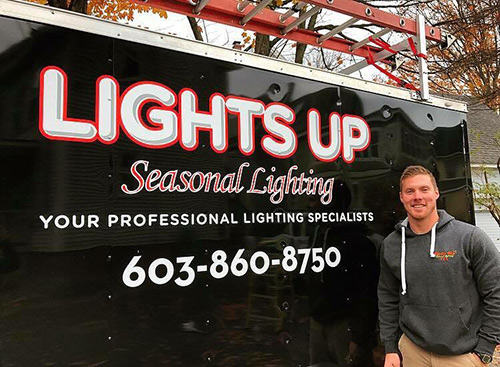 My passion and enjoyment for Christmas lights started as a child. On a Saturday night, my parents, brother and sisters would hop into the family van and we would drive all around town to see the Christmas displays. I even had a hand or two helping my dad decorate the house!
That love for decorating houses with Christmas lights grew immensely when I was fortunate enough to travel the country pursuing a dream of mine officiating ice hockey.  It is in the Midwest where I met a close friend who owns Christmas Creations and realized professional decorating with lights was something that could be very rewarding.
When I moved home I decorated a few family members and friends home as a surprise.  I found a lot of enjoyment seeing their reactions to having their home look beautiful for the winter season.  I had such great feedback that I started my company, Lights Up Seasonal Lighting, the following year.
I am now in my third year decorating homes and the excitement is only growing.  Learning to manage a company as well as having a strong rapport with each individual client is a necessity to me.
I look forward to one day meeting you and going over plans to decorate your home for the holidays!  Contact Lights Up Today!
---
Meet Our 2021 Installation Team
WEEKDAY INSTALLERS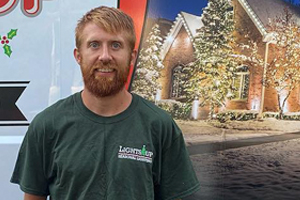 Lou Saviano
My name is Lou Saviano and I am 30 years old. This is my second season with Lights Up Seasonal Lighting and I am enjoying each day, helping to bring the Christmas season alive! I grew up in Sandown, NH and I am very fortunate to have two very supportive parents and a couple cool brothers. Speaking of supportive; I now live in Manchester with my wicked awesome girlfriend, Meagan Boucher and we both love to run! Our next big race is the Boston Marathon! When we aren't running, we are rushing around town collecting food scraps! We started our own business called Renewal Garden & Compost, please check out our website renewalcompost.com and our Facebook page Renewal Garden & Compost. I just want to say I can't wait to meet you and your families this fall and ring in the Christmas spirit!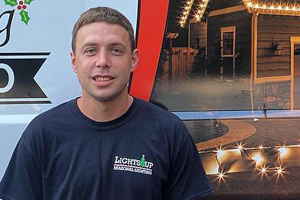 Ryan Radwan
Hi my name is Ryan, this is my second year working with Lights Up! In the off-season I worked for a sprinkler fitting company in commercial buildings. I am a father for two little boys, Ryson (7 years old) and Reese (10 months old). My girlfriend Marrissa and I have been together for 10 Plus years! Growing up I was a bit of a daredevil at the skate and snowboard parks. When not working I enjoy taking my son to the skate or trampoline park in Goffstown to teach him how to do tricks! I am thrilled for the upcoming holiday season & to spread some winter joy!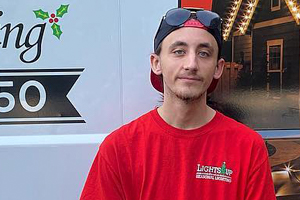 Levi Therrien
Hello my name is Levi Therrien I'm 22 years old and this is my second year with Lights Up. I'm excited to be back as I grow more into this leadership position. In the off season and weekends I work at Dunkin Donuts. I'm an avid gamer and I love playing my PlayStation 4. Paintballing is one of my favorite hobbies! I'd like to challenge my boss to a match!! My girlfriend, Alexia and I enjoy spending time together doing various activities. I have a cat named Luna who is 4 years old. My Favorite meal is steak and potatoes! I have been saving up for a new car and I am happy to have this opportunity to work with this growing company. I look forward to working on houses from last year as well as the challenges of decorating new homes!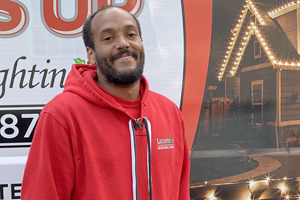 Christopher Robertson
Hi my name is Chris! I am the father to Zion and Zoey. Today was a proud father moment as my little princess entered the first grade! I am excited for this winter to drive around with my kids and show them all the houses daddy helped decorate! I love the game of basketball, but more importantly I love being able to share that love of the game with my son Zion. Ray Allen is my all time favorite player. In the off season I worked for Finnegan Fence Company LLC. I am excited for another year with Lights Up to take on more responsibility and grow into a leadership role. I look forward to helping making everyone's Christmas a little more special!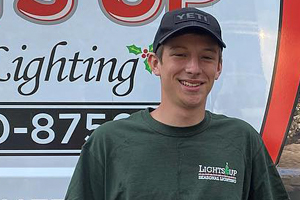 Cam Marcias
Hi I'm Cameron, I'm 21 years old. I am glad to be a part of this wonderful crew! This is my first year hanging lights for Lights Up and it definitely won't be my last. In my free time I enjoy hanging out with friends and family and of course my amazing girlfriend, I'm also a dog lover! My dogs name is Red. I am a bit of a gamer and a total metal head! I have one sister and three nephews! Im very much looking forward to bring apart of this team this season and bringing the joy to everyone's Christmas season!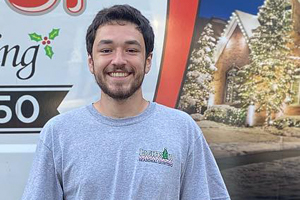 Chris Landsperg
Hey my name is Chris, I'm 22 years old and in the prime of my life. I love to work, I've been working since I was 13 and haven't looked back. I've got two beautiful dogs LouLou(13) and Mya(3) and they are a huge reason for me to keep working as hard as I can. I love to be outside and take my girls on awesome hikes around New Hampshire. I look forward to the opportunity to learn new skills and be apart of the Lights Up team!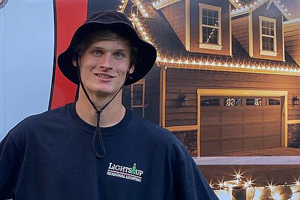 Cyrus Fuller
Hi my name is Cyrus Fuller. I am 22 years old. The guys gave me the nickname, Miley and I love it! I enjoy working with the two Red heads of Lights Up as we named our crew "Miley and the Gingers." I have a strong background as a masonry specialist. I am BMW enthusiast and I love playing basketball. Growing up I played football, basketball and loved to skateboard. When I'm not working I enjoy spending time with my girlfriend Jill. I have two sisters, Jocelyn and Avery. I look forward to working with Lights Up this season and making new work friends in the process.
Matthew Parker
Hi my name is Matt. I am 37 years old and I am a father of an almost 16 year old son , Xander. My girlfriend, Danielle and I, have a 5 year old dog named Chevy, 2 lizards Pinky and Nessie and 2 guineas pigs. I enjoy singing Karaoke, playing pool and playing the Bass and Guitar. The crews feel I have the voice of an angel! I have long red hair that I like to whip around as I slap the bass and strum the guitar! You can never go wrong with some live music! I enjoy traveling as well as hanging at the beach playing games. Life is good and I kind of live on the edge at times.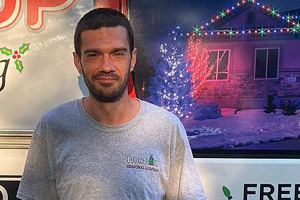 Josh Richards
Hi my name is Josh, I am 34 years old as well as a scorpio. I have a dog max who is 2 years old. Max goes everywhere with me! We are best buds. I enjoy camping, the beach, and going on adventures with max. Chris told me about the opportunity to work with Lights Up and I jumped on the bus with Max from Alabama! The trip was fun as I trekked through 6 major cities to get back up to New Hampshire. I'm currently enjoying learning about the lights business and hope to continue a lengthy relationship with Lights Up!
WEEKEND INSTALLERS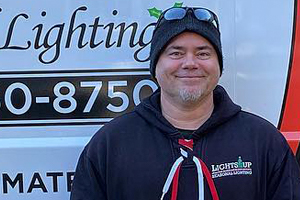 Alan Smith
Hello My Alan Smith. This is my second season with Lights Up as my part time weekend job. For my full-time job I run three research facilities buildings. The things that are important to me in my life is my Beautiful fiancée and my two Beautiful children, Haleigh who turns 5 in two weeks and Harrison who is 15 months old. My fiancée and I just bought a house a while back and we are excited to be turning it into a loving home. My favorite hobbies are working out and continually training and practicing as I am a second degree black belt martial arts.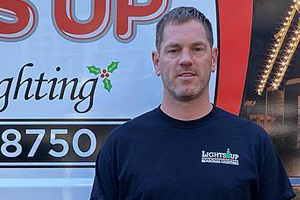 Tim Lee
Hi my name is Tim Lee, I am 42 years old. I have lived in Manchester the past 10 years. I created, own and maintain a social media website platform that only promotes NH small businesses! The website platform offers digital advertisement opportunities for small business owners to promote their websites, locations, contact info, products, services, promotional discounts, jobs and much more. The digital advertisements also include various features beneficial for the consumers experience to discover local NH small businesses. Our website platform features over 100 small businesses and hope to reach our goal of 2,000 by 2023. www.603marketing.com
"Discover & support your local small businesses"!
I have coached 15 years of youth, high school and college basketball in NH. I enjoy playing golf, outdoor activities, and spending time with family and friends!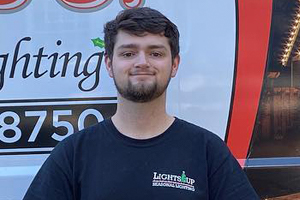 Stephen Houdon
Hello, my name is Stephen Houdon and I was born and raised in New Hampshire. I am 22 years old. I work as an audio visual technician for my full time job hanging projectors and tv's. I am the middle child and have three siblings. I am excited that my brother and sister-in-law just had my nephew Calum. Some of my hobbies include hiking, gaming, chess and cooking. My speciality is burgers which I have a family recipe from my grandfather. I live alone with a 2 year old mancoon cat named Charlie. I am excited to be working with Lights Up as a part time job! I look forward to meeting everyone!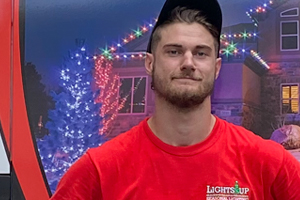 Will Del Vecchio
Hi my name is Will. I'm 26 and This is my first season working with Lights Up as a weekend installer! This job is a blast. For my full time job I am a Boston Union Carpenter and am constantly doing things on the side to squirrel away for my wife and two boys, Geo aged 3 and Leo aged 1. They are my entire world and I love being a father! I do admit admit I have super expensive craft beer hobby, it's delicious. I am huge into grilling steaks, brewing beers, mowing my lawn, and dad jokes so I guess you can say I've made it my personality. Happy to help out Lights Up this season, as I notice first hand with the owner and other employees we work hard and everyone contributes as a team!
---